Misbah-ul-Haq
Early career
Misbah was initially noticed for his technique and his temperament in the Tri-nation tournament in Nairobi, Kenya in 2002, as he scored two fifties in the three innings in which he played, however, over the next three Tests he played against Australia, he failed to score more than twenty runs and was soon dumped from the team. Having witnessed Pakistan being eliminated in the opening phase of the 2003 Cricket World Cup, Misbah was part of the changes made to the team in the aftermath of these results, but failed to make much of an impact and was soon dropped again.
[edit]Comeback
At the age of 33, Misbah was chosen to play in the inaugural ICC World Twenty20 in 2007, filling the middle order spot vacated by Inzamam-ul-Haq. He had been regularly making runs in Pakistani domestic cricket and in the years before his recall he was consistently one of the top run scorers at each season's end, with his first-class average briefly climbing above 50.
Misbah was one of the stars of the tournament, playing a large part in many thrilling run chases. The first was in the group stage against India where he scored a half century in a tied match. He was run out attempting the winning run off the last ball of the match. In their Super 8s encounter with Australia he was named Man of the Match with an unbeaten 66 off 42 deliveries to see his side home with 5 balls to spare. Another unbeaten innings in the semi final against New Zealand saw Pakistan book a spot in the final against India.
He played an instrumental role in Pakistan's recovery in the inaugural 2007 ICC World Twenty20 final against arch-rivals India, with three sixes. He hit the second legitimate ball of the last over for six. With 6 runs needed to win off 4 remaining balls, Misbah tried to scoop the ball over short fine leg, but was caught out by Sreesanth.
Misbah scored his maiden Test hundred against India at Kolkata in the 2nd Test of the 2007 series. After India managed 616 in their first innings, Pakistan were at 5 for 150 in reply and in danger of following on when Misbah and Kamran Akmal put together a match saving 207 run stand. Misbah finished on 161 not out. In the 3rd & final Test of the series, Misbah made another fluent century this time finishing on 133 not out.
2008 began with some high points for Misbah as he was elevated to the post of Vice - Captain of the Pakistan team and was awarded a Grade A Contract. Since returning to International Cricket for Pakistan, Misbah has gone through a sustained patch of prolific run scoring. In his last 5 Test Match innings for Pakistan, he has notched up 458 runs at a very high batting average of 152.67 against India. In his last 5 ODIs as well, Misbah has made 190 Runs at an average of 63.33 & in Domestic Cricket for Punjab, he has amassed an astounding 586 runs at an average of 195.33 with 2 centuries and his highest first-class score of 208*.
[edit]Dropping out and the captaincy (2010–2011)
Misbah was dropped from the team after the 2010 ICC World Twenty20 and missed the team's controversial tour of England in August 2010[1] Due to the batting-collapses that Pakistan suffered during that tour Misbah was recalled for the subsequent tour against South Africa in the UAE to lead as a captain of the team for test series. Many people expressed their surprise at the appointment of Misbah as captain. Wasim Akram stated that although the decision was surprising if Misbah bats and fields well everything else will go according to plan.[2] Former Pakistan coach Geoff Lawson stated that he believed Misbah has the best cricketing brain within Pakistan and he will do incredibly well in the plans for the captaincy [3] Misbah hit back at those who criticised the decision to appoint him captain and stated that he should be given a chance to prove himself [4] In his first match as test captain he set an example for his team when he scored 71* in a 168 run partnership with Younus Khan this helped Pakistan salvage a draw from the match [5]
[edit]Two-test series in New Zealand (2011)
I have to give full credit to Misbah as he has stabilised the team and leads from the front. His performance is also outstanding. He makes the boys feel comfortable and relaxed so they actually enjoy their cricket. He is mature and willing to listen. The only unfortunate thing is the age factor which is not in Misbah's favour.
—Pakistan coach Waqar Younis in 2011 on Misbah's captaincy.[6]
After Three Twenty20's in which Misbah did not play as Pakistan lost the series 2-1. He returned to captaining the test side and during his third test as captain he claimed his first victory when Pakistan beat New Zealand by 10 wickets. New Zealand were bowled out for 275 and during Pakistan's first innings Misbah reached a half-century before being trapped in front on 62, however Asad Shafiq top-scored in the innings with 83. Pakistan took a slender lead of 92 and bowled New Zealand out for 110 needing just 19 runs for victory and Pakistan sealed a crushing win when Taufeeq Umar sealed the winning run as Pakistan won by ten wickets and took a 1-0 lead in the series. The following match Misbah stated that the team's main focus was on improving themselves and that winning the series was a side focus. In the second and final Test of th series, Misbah yet again impressed with the bat. He was trapped in front just one short of a century in the first innings, with Pakistan taking a slender first innings lead. New Zealand posted 293 in their 2nd innings leaving Pakistan needing 274 to win on the findal day. An opening barrage from New Zealand's seamers left Pakistan struggling at 42-3, with Misbah joining Younis Khan at the crease. The two put on 118 runs and Misbah remained undefeated as Pakistan held out for a draw, finishing 226-5. This secured Pakistan's first Test series win since 2007 and helped raise Misbah's average as Captain to 112.75.[7]
Misbah-ul-Haq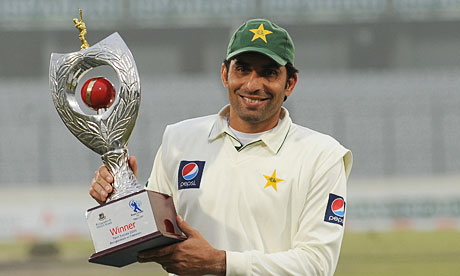 Misbah-ul-Haq
Misbah-ul-Haq
Misbah-ul-Haq
Misbah-ul-Haq
Misbah-ul-Haq
Misbah-ul-Haq
Misbah-ul-Haq
Misbah Ul Haq Funny Shot | Pakistan Vs India 5th Match Asia Cup 2012
Misbah-ul-Haq, 5th ODI India v Pakistan, Mirpur